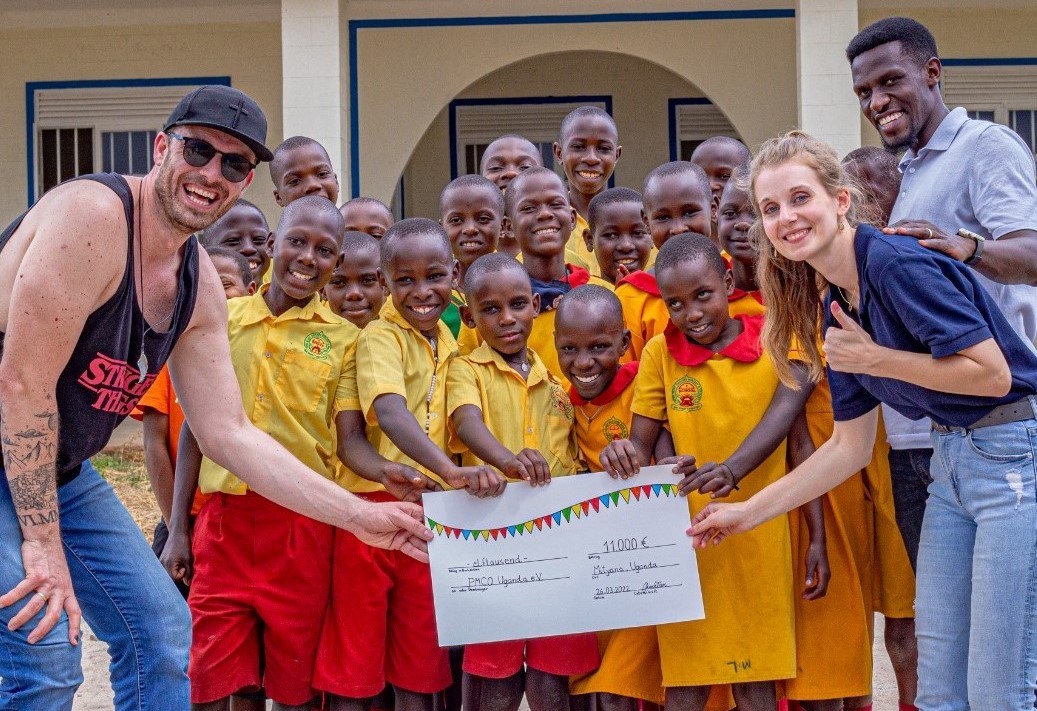 APRIL UPDATE PAYPAL DONATION CAMPAIGN
Fundraising event was a great success
› Playing football, stop dancing, badminton, team games, laughing, running – being a kid. The first weekend in April was full of emotions for young and old. Our team in Uganda had visitors from Germany, and they came with a lot of fun as well as a big surprise in their luggage.
Review: In March, a Paypal link was shared on social media to donate to PMCO Uganda e.V.. The aim was to raise 11,000 euros for the completion of the school kitchen. The link was diligently clicked on and countless donations were received. Many influencers drummed up support and within just two weeks the big donation target was reached! We are incredibly grateful that the last major building project for the time being can now finally be tackled.
Boris, who initiated the fundraising campaign, came to Uganda in person to hand over the cheque. He was accompanied by a team of the CityChurch from Cologne, who wanted to inform themselves about our sustainable work together with him. For our visitors from Cologne it was the first time in the East African country, so the trip included shopping at the local market, original Ugandan street food, the typical traffic in Kampala and long car rides over bumpy roads to the children's villages.
In addition to the many impressions from the Pearl of Africa, the travel group was able to visit our school campus with construction site and got to know all the sponsored children. They even visited some kids in their humble home and spent a lot of time with them. At a parents' meeting, they shared their heart and joy about the work with the visibly touched guardians of the sponsored children. Many conversations about vision, challenges and support opportunities took place with the Ugandan team.
The group was particularly touched when Boris was allowed to hand over the cheque to the children, but the circumstances in which our families live also left deep and lasting impressions. "We will go back changed", say all four and assure that they would like to come back.
What remains are these special encounters with people that change our visitors, but also the parents and children, and trigger hope. We are therefore very much looking forward to further cooperation with the Citychurch from Cologne and are excited about who will be visiting us on the next group trip.
help now:
PayPal – Fast and uncomplicated
---
Please click here:
Please include the address for donation receipt
Bank transfer
PMCO Uganda e.V.
Deutsche Skatbank
IBAN: DE83830654080004238907
BIC: GENODEF1SLR
VWZ: address for donation receipt