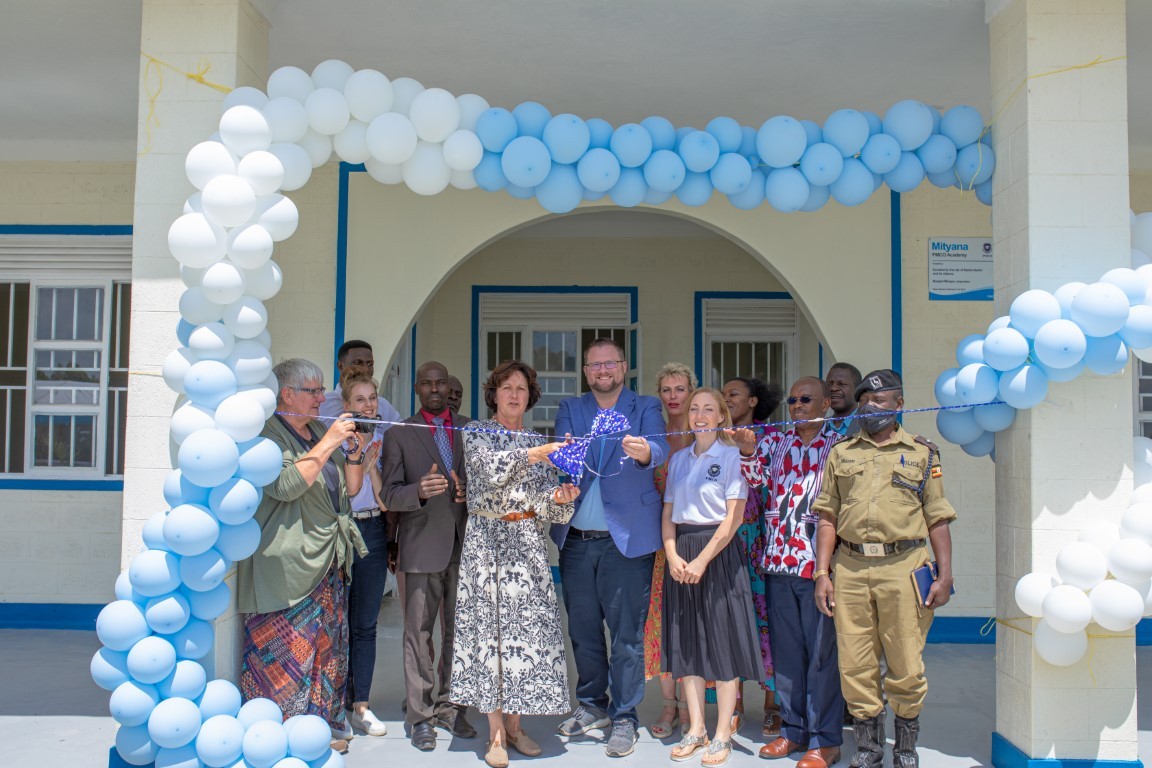 A celebration of hope: our school inauguration
A celebration of hope: our school dedication
› Excitement, dances, laughter, hope and love. Big tents, many cars, the smell of good, local food, balloons and music. That was our set up and the atmosphere on the PMCO property on the 28th June 2022: OUR SCHOOL DEDICATION.
There were many emotions, because there was a lot that touched and occupied our guests: from dance entertainment to serious words. There was also time for fun and games with the PMCO kids and good food – something for everyone!
Months of work, planning and preparation were put towards this event, and we can happily say that it was a great success!
One of the main purposes of the dedication was to officially launch the school building that was donated by the former mayor of 'Baden Baden' Mrs. Magrit Mergen. Mrs. Mergen was present herself, to see and experience Mityana and to dedicate the building that will be the primary school on our campus in Mityana.
We were able to give her and the community updates on how far the construction of the campus had come, but also to show the parents and children a glimpse of what the school they are going to be attending, looks like.
170 people were in attendance, these included the children being sponsored by PMCO, a few volunteers who made the day a success, the PMCO team in Uganda, the former Mayor's team from Germany, local community leaders and Thomas and Michaela Bleile – the founders of PMCO from Germany.
There were a few speeches given by the founders, the german mayor, kids and parents. The team leaders of PMCO in Uganda, Juli and Raymond spoke to explain the relevance of PMCO in Mityana, but also to thank the parents for trusting PMCO with their children.
All speeches emphasized the importance of raising children based on good values, pedagogy and training them to become responsible leaders in their village community.
It was also emphasized that these children, regardless of their background, family circumstances and destiny, have a right to go to school and can hope for a great future! It was a celebration of hope and the vision of PMCO!
The children performed a dance and poem, which brought light-hearted moments to the event. Their joy while presenting brought many of the guests to tears.
It was a beautiful sight to see the effect that these little bundles have on everyone that encounters them. They were filled with so much excitement that was very evident to all.
We are in Uganda – which means no event can end without sharing a good meal! So after the speeches and the main ceremony of the dedication, everyone enjoyed fresh prepared local food. The children were catered for first and it was heartwarming to see their excitement to have a whole plate of food – just for them!
Our kids are our focus and the reason why we do this work – so of course one other objective of this day was to also spend some time with the children and let them play on their new playground for the very first time.
Their beautiful smiles and excitement to be playing together was really the highlight of the entire event and got some of our visitors and team members teary eyes.
The event involved the Mityana community in a unique way and we look forward to having more engaging events, but also registering many more successes with the children at PMCO.
A big thank you again, to Magrit Mergen and the team of Fly and Help who made the construction of this first school building happen! We are grateful for their support and that they came all the way from Germany to share this special moment with us.
*The goal is to open the school and have school operations running by January 2023 (next academic year in Uganda). In order to do so we are still in need of 20.000 Euros, to complete our Dining and kitchen hall.
In case you want to support this project, please get in touch with us!
help now:
PayPal – Fast and uncomplicated
---
Please click here:
Please include your address for donation receipt
Bank transfer
PMCO Uganda e.V.
Deutsche Skatbank
IBAN: DE83830654080004238907
BIC: GENODEF1SLR
VWZ: address for donation receipt