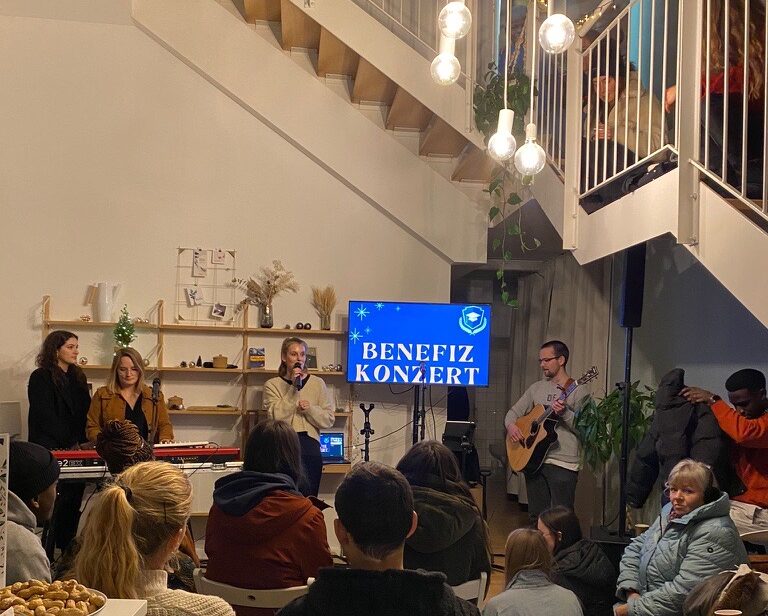 Benefit concert in Cologne
A report from Isi
›As in previous years, PMCO again organized an event in Cologne this December – but this year there was a special event: this year we held an information evening in the citychurch premises instead of an information evening Christmas benefit concert. On a cold December evening, the doors were opened in the center of Cologne for people who are interested in our organization and the work in Uganda. On huge success, because many people came, the room was full and all the seats except for the steps were occupied.
With warm drinks and pastries could Christmassy Live music be enjoyed with keyboard, guitar and vocals. A particular highlight of the evening was Ugandan song, sung together by July and Ray, the heads of PMCO in Uganda. In addition, Maya was a poetry slam performed, who had written it especially for this evening. The focus here was gratitude. Link to the Youtube video: https://www.youtube.com/watch?v=vaadrdjvpyA&t=5s
July took the guests into the with many pictures Culture of the country and his Beauty. But also the hardships and like PMCO last year hope through education could bring to the children in the poorest areas. She told impressively what had already happened generous Sponsorships could be reached, but also by the plans and visions for the next few years. In addition to Juli and Ray was also the founding couple Thomas and Michaela Bleile was there and Thomas spoke about his motives despite the hopeless poverty brave to stand up and the poorest of the poor hope and future to give. His motto: There is no such thing as a drop in the ocean.
After the official program, many of the visitors took the time for discussions and questions. There was also a reunion with Cologne studentswho already im Visiting Uganda in June 2022 and got to know the children and the work on site personally. through the generous guests of the benefit concert some donations could be collected, which benefit the work in Uganda.
Juli and Ray are coming two times a year to Germany to report on our work, visit partners and build new partnerships. If you are interested in getting to know us personally, in learning more about us and our work, or in working with us, then melde dich!
The concert was a complete success and I'm already looking forward to the next PMCO event – ​​or who knows, maybe we'll see each other soon in Uganda? 😊
Your Isi
Help now:
PayPal – Fast and uncomplicated
---
Transfer
PMCO Uganda registered association
German skate bank
IBAN: DE83830654080004238907
BIC: GENODEF1SLR